[:en]On Haiti and Freedom[:]
[:en]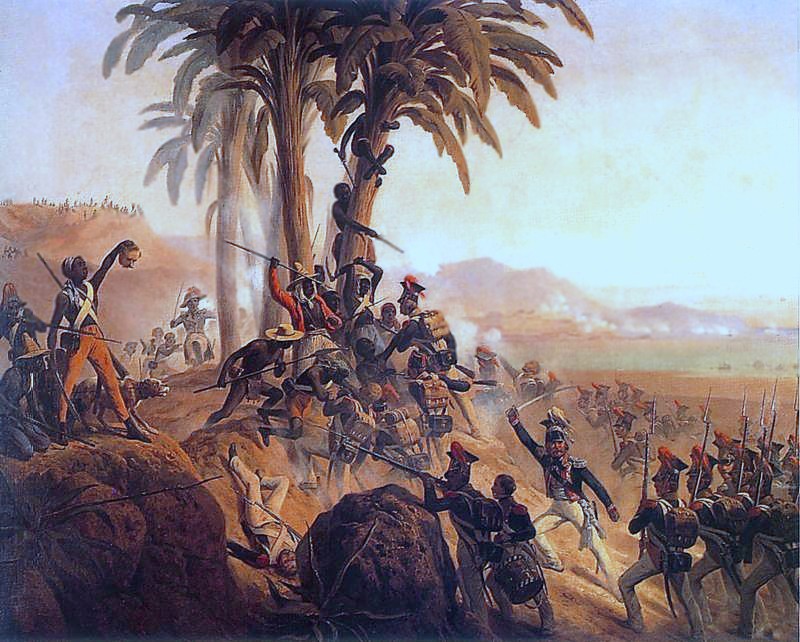 Haitians are a proud people and for good reason. They were the first colony to free themselves from slavery and overthrow a ruling class. The revolution, set off in part by the French Revolution, led to a bloody battle and punishing reprisals from European nations. Some two hundred years ago, one of my ancestors, Philibert Fressinet was a commanding officer in an invasion force sent to Haiti by Napoleon in the worlds then largest naval fleet to attempt to recapture the wealthy colony of Saint-Dominique (now Haiti) and re-instate slavery. In some ways, I wanted to go Haiti to absolve my ancestors sins and to see for myself what a revolutionary colony looks like. It's not pretty.
I have travelled to poor places before – Ethiopia, rural China, Mongolia and others – but Haiti in 2015 is truly a place in desperate need of massive assistance. The Haitians fight for liberation started in 1791 and allowed them to free themselves from the bonds of slavery, but it left them in a political quagmire that lasts to this day. Walking through the streets of Port-au-Prince or smaller cities you see abject poverty nearly everywhere, yet you also see tremendous pride in the faces of everyday citizens. This fascinating contrast is difficult to explain. The expressions on their faces are different from any other non-white people I have met. Nearly all people of colour around the world were subject to colonialism at some point in time – everyone from the aboriginals in Canada to the people of Africa and Asia. When I visited Tanzania many people did not look you in the eye, their head and eyes turned downward upon sight of a white person as if to say they were subjugated. I would claim that this is even true in the United States with African Americans. An ingrained inferiority complex beaten into certain peoples takes generations to root out of a society. Some mouvements can accomplish the feat of instilling pride in a oppressed people and one of the most recent attempts was the Black Panthers, who led a fight for equal rights and dignity in the 1970s before imploding due to FBI sabotage and infighting. They had a similar image of pride in their eyes.
The leader of the Haitian uprisings, Toussaint l'Ouverture perhaps explained it best when he stated that he planned
"to cease to live before gratitude dies in my heart, before I cease to be faithful to France and to my duty, before the god of liberty is profaned and sullied by the liberticides, before they can snatch from my hands that sword, those arms, which France confided to me for the defence of its rights and those of humanity, for the triumph of liberty and equality."
The Haitian people, if anything, are about freedom – freedom of spirit and of body. You can see this passion and righteous freedom in their eyes like I have not seen in may other people, except those of the ruling classes in other countries.
Haiti is tiny and mountainous an has over 10.32 million people who congregate in the valleys and near the water, making towns and countryside incredibly dense. The deforestation and its impacts on agriculture and sustainability are well documented in book such as Collapse by Jared Diamond. Simply flying over the country you can see the demarcation with the Dominican Republic, which has remained forested thanks to strictly enforced laws. All this to say that Haiti has a serious and not easily remedied problem: too many people and not enough land and resources.
The second main issue I could see in Haiti is that anyone with either an education or a bit of wealth leaves the country. This emigration empties of the country of a potential middle class. After the revolution some of its leaders got greedy and established a ruling elite not dissimilar to other central and Latin American countries. One leader, Henri Christophe ruled the north and even thought it was a good idea to reproduce, in exacting detail down to the specific titles, the aristocratic structure of Europe. This ruling elite has continued to exist until today and they seem to have little interest in developing the country. Much of the the aid money sent to Haiti often ends up in their hands. Without an educated middle class to counter the power of an elite, it becomes very difficult to establish the rule of law and build up an economy.

Third, foreign intervention is not new to Haiti. After the 1791 revolution and under threat of invasion, reparations estimated at 20 billion 2015 dollars were paid by Haiti to France for loss of property including Slaves. Successive interventions occurred over the years up to the American invasion in 1915. Today, foreign intervention is more subtle, but it is a major influencing factor on the politics and opportunity for the Haitian people. From controversial deals that prevent the application of Haitian law in a section of the North Coast and potentially an island Carnival Cruises has leased out land for foreign tourists to enjoy. The massive investments by foreign embassies, aid organizations and other non-profit groups has an impact on the relationships between foreigners and Haitians and between Haitians themselves. These investments, often done behind back-doors, makes it challenging for an economy to be built as Haitians will often use aid money to buy products from China or the Dominican Republic instead of building factories for their own production. In short, a system of dependency has been created that is sadly aligned with some of the interests of the ruling elite and certain foreign entities.

It would be nice to say that I am optimistic for Haiti, but I fear I cannot be. With no president and increasing violence, Haiti seems to be in a situation that cannot easily be corrected. There are so many problems that any realistic solution would need to involve the relocation of millions of people, the investment of billions of dollars and the return of educated émigrés. If there is one thing Haiti undeniably has it is honour and pride in their remarkable revolution that is well documented in C.L.R. James book, The Black Jacobins. It would be a great victory to see Haiti prosper, but if there is any lesson to be learned from them, it is that one should not understate the power of foreign countries, corrupt elites and revolutionary fever.[:]

Published on February 10, 2016
[:en]Montreal Stores around the World[:]
[:en]

The economic and political power of cities is on the rise due to changes in the economy and continued migration to urban areas. Montréal, like other cities, must continue to invest in itself if it hopes to compete on the global stage.

As a born and raised Montrealer, I may be biased. Though our city has much to offer, we are often cast in the shadow of larger cities such as Toronto, New York, and Paris. To compete for investment and tourism dollars, Montréal must focus its attention on its killer features. Of course, I think most will agree that we need political and economic reform along with more devolution of power from the province to the municipality and an integrated transportation system to efficiently move goods and people. But beyond reforms, we need something essential to our growth – investment. The quickest path to more revenues is more people, leading to higher property value and more economic activity.

If we want Montréal to become a strong city, it must advertise its specificities on the competitive world stage. We cannot and should not compete with major financial centres such as London, Hong Kong, New York or with the mega-cities of Mexico City, Istanbul and Shenzhen. Montreal is unique in many ways and we should advertise that uniqueness to attract business and tourism. I propose that we capture and bottle the unique Montreal flavour, creating a physical presence for others to taste and visit at home: Montreal Stores.

One simple solution to some of our economic woes is to drive more tourism dollars to our economy. With a 320 million person country next door and a strong US dollar, this should be a straightforward proposition. Instead of promoting ourselves through closed off Canadian Embassies or Québec delegations, we should build on success in the private sector and perhaps the greatest retail experience of all, the Apple Store. An Apple Store lets you test their new products, get consultations on the best products for you and even attend courses, lectures and musical events centred around the company's products. A Montreal store would follow a similar model.

Having recently visited to New Orleans, I was struck by the number of Americans who traveled to New Orleans to visit the old French Quarter, listen to Jazz, drink cocktails and enjoy fantastic food. Montreal has many of the same cultural and culinary attractions as New Orleans and we are as close to the United States as one can get. The same American tourists who visit New Orleans for a modest amount of diversity and culture are the same tourists we want to visit Montreal. Curious Americans who want some culture, but might not be inclined to travel to Europe or Asia can come to visit us, in Montreal.

To promote our unique attributes and drive tourism to our city, Montreal should establish store fronts in cities around the world (even Canada). I would start with a storefront in the busy tourist filled French Quarter of New Orleans. The same tourists that travel to New Orleans are ones who would be thrilled to come to our Jazz Festival and enjoy our amazing choice of restaurants. This storefront, with an operating cost of a few million dollars a year could be modeled the Apple Store. Instead of iPads and iPhones, we would promote our music, innovation, language (french!), culture and food. The side-by-side promotion of our cultural uniqueness with our high tech industry and generous tax credit system might even incite some companies to open offices here. The goal of each Montreal Store would be to generate more revenue through tourism than it costs to operate, which strikes me as an easy target. The stores could host and promote Montreal musicians, innovative companies, art and culinary showcases to lure new people to our island city.

These tangible stores would help Montreal promote itself as a cultural and business hub for US tourists and businesses. Of course, we must also engage in a number of reforms here at home, but bringing US dollars onto our island would provide some key financing for our other projects. It's time that Montreal take the bull by the horns and unabashedly promote itself as the fun, francophone and high tech hub that it is.[:]

Published on August 2, 2015
Russia part II – Catherine the great palace, Moscow, Irkutsk, Listvyanka
The Catherine the Great palace lies 1 hour outside of St. Petersburg and was truly stupendous. The original castle was completely destroyed during the second world war and the famous Amber room was stolen by the visiting Nazis. Over the past 60 years, 29 of 55 palace rooms have been restored to their former glory, including the amber room which was just opened and is as amazing as I had imagined. Three different architecture is found throughout the building, neo-classical, empire and traditional Russian style.
We then took an overnight train to Moscow, our first russian train. It was much more luxurious than we anticipated – clean sheets, TVs, hot water, if only Lenin knew! In fact, our first stop in Moscow was to see the man himself, who now rests less than 500 meters from a McDonald's. The old patron, Lenin, is unfortunately the worse for wear, growing more and more translucent, there is even talk of removing him from his mausoleum.
After visiting the main sites in Moscow – Kremlin, Museums, Churches; we bought our "real" train tickets, 3rd class on the Irkutsk Express – three and half days. Life on the train was lively and all aboard were more than friendly. They happily gave us more salted fish than we could chew along with gallons of beer to wash it down. Since the Russian government has raised taxes on Vodka, many comrades have turned to beer, which is not really considered alcohol in the motherland.

On the train, we met families, soldiers, grandmas and children. All of whom offered us their food and hospitality. Jon, the father of a cute young girl, even insisted we visit his brother in Irkutsk, he gave us salty fish and said we had an amazing aura. Sadly, we could not take him up on his offer, maybe next time.

At Novosibirsk, the Ulan Ude Tai Kwon Doe team got on the train after placing second at the Siberian Open. Their conquest of our car culminated in the renaming of the train to the Karate express.

We came to Lake Baikal to rest and visit the oldest, deepest lake tin the world. In the small village of Listvyanka we set out to find rooms for a night or two. This proved harder than expected, the town seemed to have more dogs than people and even less signs for hotels. After crossing a group of Australian tourists, we were informed of the Russian word for rooms, which we now realised, was plastered on every other home. We rang at one door clearly marked Rooms for Rent, to be politely told, "Hello, Go home!". Luckily the hostess changed her mind and let us in.

During our visit,  we climbed up to a run-down soviet hotel called, you guessed it, Lake Baikal. The place has certainly seen better days, not that long ago, the rooms were likely full of powerful soviet politicians. Today, it still retains its 1950s Shining charm, superb view over the lake and surprisingly delicious food.

After our stint on the great lake, it was back to Irkutsk where my girlfriend and I headed south to Mongolia and my brother continued to the majestic, or is it magical, city of Vladivostok.

Published on March 18, 2010
Igloo in Parc national des Monts-Valins, QuébecIgloo dans le Parc national des Monts-Valins, Québec
In early January 2010, my girlfriend and I rented a fully-equipped igloo for two nights in the provincial Parc des Monts-Valins near Chicoutimi. For about 140$ per night you got two sleeping bags, two snowshoes, two mats and a candle to get rid of the moisture. The lady at the welcome centre warned us that if it got too cold at night we could sleep in the heated entrance of the welcome centre. She warned that the vast majority of people caved in around midnight and that two nights in their igloos was unheard of.
The igloo was resembled a snowfort of my youth more than a textbook igloo; the structure was made of compacted snow dug from the inside out, but perhaps that is what an igloo is? As night fell, we prepared a fire and settled in. After much talking and eating, we prepared ourselves for bed, only to realize it was only 19:30 – the sun sets early on a january Chicoutimi night.
We got lucky, the thermometer hovered around -5 and we lasted the night. At the crack of dawn, we strapped on our snowshoes and headed up the mountain. We climbed nearly 1000 m of height and covered 18kms. Nearing the top we had great views of the Saguenay.

On our trek down, it began to rain. Exhausted and sweaty, we wondered if our snow-home would be able to withstand the warm weather; we were very happy when the welcome centre offered us a cabin instead of the igloo. Using the rain as an excuse, we hapilly obliged.

Though the igloo lacked authenticity, it was a fun experience and the parc staff were fantastic.

Building a real igloo:

Published on February 14, 2010
Review Giacomo sur les planchesCritique Giacomo sur les planches
The one man act entitled "Giacomo sur les planches", playing in Paris is well worth the ticket price. The actor Giacomo plays out his childhood and first love affair with theatre. He jumps from one character to another, his friends, parents and neighbours  bringing well over 20 unique personalities to life. Each character is unique and distinct – his seamless transition between them is stunning. This play is highly recommended and for the reasonable price of 14 euros it beats any movie out there.
Buy tickets here at a reduction.
More info here.
«Giacomo sur les planches», une petite production d'un one man show qui vaut largement le prix du billet d'entrée. L'acteur nous présente son enfance dans une banlieue de Paris, entouré d'immigrés — italiens, arabes, grecs. Mais l'histoire tourne surtout autour de  son premier coup de foudre avec le théâtre. Sa performance d'acteur est impressionnante : il joue à lui seul plus de vingt personnages différents, qu'il incarne parfaitement, rendant chacun unique et mémorable. Sa transition entre ses différents amis et membres de sa famille de son enfance est remarquable. Je vous recommande fortement d'aller voire cette petite pièce.
Achetez vos billets à réduction ici.